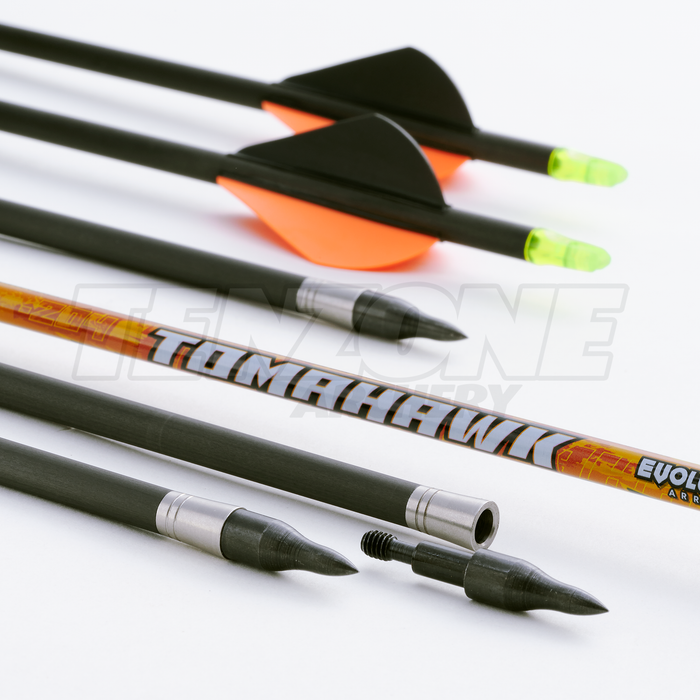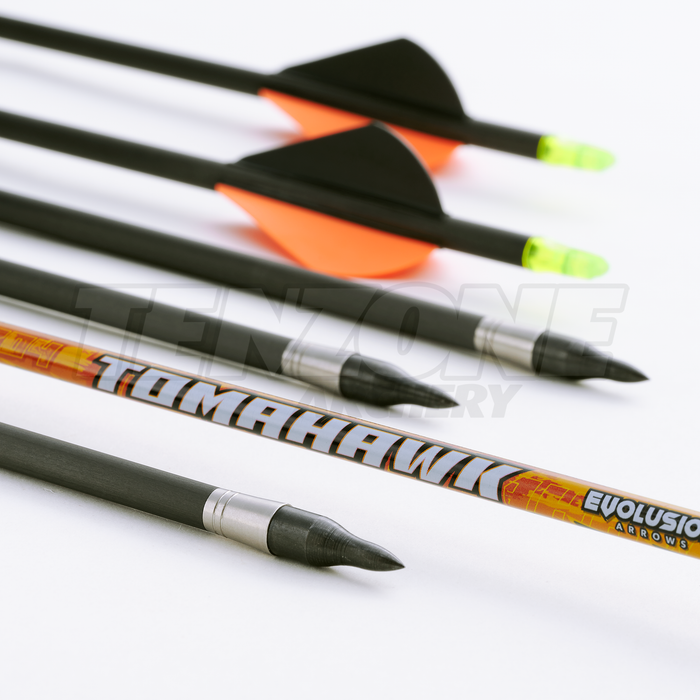 Evolusion - Tomahawk .005 RTS Arrow - 6 pack
The Tomahawk™ by Evolusion Arrows® is a slim diameter arrow that is engineered for accuracy and 'shot-after-shot' durability.
The combination of the thick walled shaft and the heavy duty stainless steel half-out means the Tomahawk™ arrow delivers plenty of 'punch' at all ranges.
Sold in a 6 pack of 'Ready-To-Shoot' arrows.

Nocks, vanes, half-outs and points are included with this hand-fletched, ready-to-shoot arrow.


CUTTING IS NOT AVAILABLE FOR RTS TOMAHAWK ARROWS.
Half-out inserts are pre-installed with AAE slow-set epoxy.
400 spine arrows are 30 inches long.
350 spine arrows are 30 inches long.
300 spine arrows are 30 inches long.
250 spine arrows are 31 inches long.


Crazy-tough Q2i 2 inch Rapt-X vanes are included. They are precisely installed by hand, in Australia.
Vanes are primed with the AAE primer pen and glued with a 3 degree helical using AAE Max Bond glue.
VANE COLOURS MAY VARY BETWEEN ARROW BATCHES.


Press-fit EV-S nocks can be indexed for the release aid or finger shooter. They are

not

glued into the arrow shaft.
SPECIFICATIONS
Straightness Tolerance: +/- .005 inch

Shaft Inner Diameter: .204 ID (5.2mm ID)

Arrow Lengths (AMO): 250 spine: 31 inch, 300 spine: 30 inch, 350 spine: 30 inch, 400 spine: 30 inch.
Available in the following spines:
250 (10.9 gpi), 300 (10.0 gpi), 350 (8.7 gpi), 400 (8.2 gpi).
GPI specifications are shaft only.

Screw-in Point Weight: 100 grains.
Points supplied may be Evolusion 3D field points or Saunders Points - depending on availability of stock.

Evolusion Arrows® SPINE CHARTS can be found HERE.
Sold in a 6-pack. Arrows are ready to shoot and cutting is not available.
Important information
Please read the Evolusion Arrows® Spine Chart and Safety Information.
Complete RTS Tomahawk arrows are 100% hand-assembled in Australia using materials and components from the USA, Japan and China.
Colours of actual products may vary to those displayed on your device. All text and photography is subject to copyright.