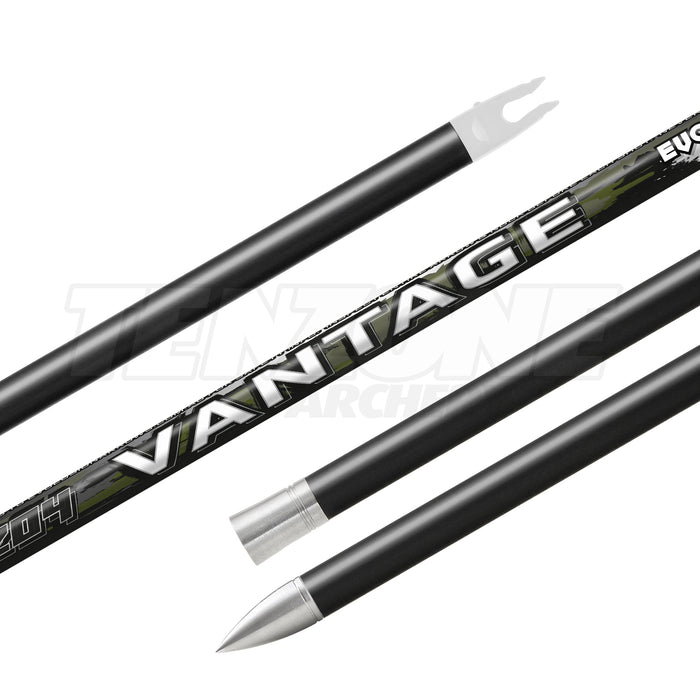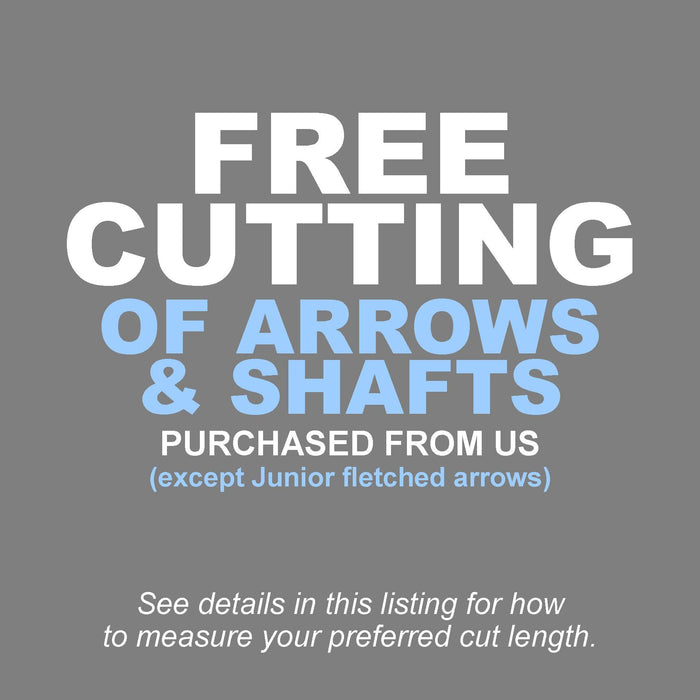 Evolusion - VANTAGE Shaft - 12 pack
Get the consistency you need with the 5.2mm ID Evolusion Arrows® Vantage™
 hunting and 3D 
shaft.
The low GPI specs of the Vantage™ allows high FOC arrow builds and flatter shot trajectory, while retaining the renowned Evolusion Arrows® durability.


Superior straightness, spine and weight matching in every pack of shafts.



An extensive range of precision components is available for the Vantage™ that will satisfy the most technical bowhunters and 3D archers.
Sold in a 12-pack.

SPECIFICATIONS
Straightness: +/- .001"
Weight Tolerance: +/- 1 grain.
Shaft Length (uncut): 32.3" measured to the nock throat.

Inner Diameter: .204 ID (5.2mm ID)
Spine (and gpi):
300 (8.8 gpi), 350 (8.2 gpi), 400 (7.1 gpi), 500 (6.2 gpi).

Evolusion Arrows® SPINE CHARTS can be found HERE.

INCLUDED COMPONENTS
EV-T .204 Nock: WHITE 9.5 grains (throat ID .1280")
OPTIONAL COMPONENTS
.204 S/S Half-Out: 55 grains

 

(suits a field point with 5/16" or 19/64" seat OD)
SIZE 2 (2 groove): 300, 350 and 400 spines.
NOTE: The Stainless Steel Half-Out adds 12 mm (.4725") to the finished length of the shaft.


.204 SLIM Insert: 20-15 grains (7075-T6 Aluminium).


.204 Stainless Steel Target Point (break-off):
SIZE 1: 120-110-100 grains (Vantage 300, 350, 400).
SIZE 2: 90-80-70 grains (Vantage 400, 500).


.204 Stainless Steel Nock Bushing: 22 grains

 

(a heavy-duty bushing that suits the EV-M Nock and similar .165 ID nocks by other manufacturers).


.204 Aluminium Nock Bushing: 9 grains

 

(a 7075-T6 ALU bushing that suits the EV-M Nock and similar .165 ID nocks by other manufacturers).


EV-M Nock: 6.7 grains

 

(this nock must be used with the .204 EV-M Nock Bushing).
Evolusion Arrows® Stainless Steel, Aluminium and Brass components are designed in Australia to exacting tolerances.
Evolusion .204 S/S/Half-Outs can be found here.


Evolusion 3D Field Points can be found 

here.



Evolusion .204 S/S Target Points (Glue-In) can be found 

here.
INSTALLATION TIPS - OPTIONAL HALF-OUT / TARGET POINT
Install glue-in components with any reputable 24 hr set epoxy adhesive. 
We prefer AAE Epoxy for all insert, half-out and outsert installation.

If a Loctite adhesive is used, it MUST be an impact resistant formula.
Beware! Cyanoacrylate adhesives set fast - you have limited time to move the half-out into place when installing in the carbon shaft. DRY TEST FIT PRIOR!
Don't skimp on the prep! Ensure both the half-out AND the carbon shaft have be cleaned with isopropyl alcohol.
Don't use methylated spirits, mineral turpentine, brake cleaner, rubbing alcohol or Shellite.
Don't soak the arrow shaft in the isopropyl for an extended period of time - a small amount of isopropyl on a cotton tip is all that is required to clean the internal surface of the shaft.
Use a dry cotton tip to remove any alcohol that has not evaporated. A clean cotton rag and a little isopropyl will sufficiently clean the post of the insert.

Clean both shaft and half-out until any factory residue is removed, and you won't go wrong.
Important information
Please refer to the Evolusion Arrows® Spine Chart and Safety Information.

This listing is for 12 Vantage™ shafts with white EV-T nocks fitted.
Optional components are shown in the product photos - .204 ID S/S Half-Outs and S/S Break-Off Target Points are both sold separately.

Colours of actual products may vary to those displayed on your device. All text and photography is subject to copyright.